Adventurous Fast Rivers
– Where The Most Important Trip On The River Is
Yours!
Welcome to Nantahala Rafting with Adventurous Fast Rivers where we are proud to be recommended #1 on Trip Advisor! As the finest company on the Nantahala River, we have been specializing in whitewater rafting adventures for over 35 years. Putting you #1 since 1979, Adventurous Fast Rivers Rafting continues to welcome you to miles of fun and exciting Class II and III rapids on one of the country's most popular rivers.
Our goal is to exceed your expectations in all facets of your rafting experience. Our friendly, skilled and sincere service is second to none and we welcome the opportunity to have you on the river with us.
Adventurous Fast Rivers is geared to give you personal and knowledgeable service allowing you a wonderful, memorable trip down the Nantahala (nan-tuh-hay-luh) River! We thank you for choosing us and look forward to sharing the adventure of whitewater rafting with you! After all, the most important trip down the river is yours!
We have set aside a spot just for you, whether you're a rugged whitewater veteran or a beginner enthusiast who has never rafted before. Your river experience can range from a family outing to a high performance adventure; we offer group discounts, privately guided, guide-assisted or unguided rafting trips, funyaks "duckies", sit-on-top kayaks, inflatable canoes, lake canoes, river photos, a great T-shirt souvenir shop and much more! For our rafters, a guided Nantahala rafting trip may be your preference and we are pleased to set you up with the best guides on the river. Or if you choose, you may prefer to allow your family or group the excitement of guiding your own rafts. We will stand by our policy to do all we can to help your group understand the "how-to's" for enjoying the river with a guide or on your own.
In the heart of the Nantahala National Forest, the Nantahala River is a family friendly, nationally recognized river of recreation. The most popular in the Southeast, it is one of the oldest rivers in the world and gets its name from an Indian word meaning, "Land of the Noonday Sun". The Class II-III river is dam-controlled and pulls its water from the bottom of Nantahala Lake. The water has a scheduled daily release from the dam about 15 miles upstream and is pulled from approximately 250 feet in depth. Since the water does not see sunlight until its release, it stays cool year around. The pristine, crystal-clear mountain water then runs its course through the Nantahala River emptying into Fontana Lake.
more
March through October, your whitewater adventure begins at the Adventurous Fast Rivers Rafting outpost on the banks of the Nantahala River, in the Nantahala Gorge, 14 miles West of Bryson City, North Carolina. After checking in at the store counter, you'll get fully equipped, receive personal instruction, and be shuttled 7 miles upstream to the put-in where your whitewater fun will begin. (hours/days vary depending on season ~ please click Information then Trip Times to verify)
On the area's most scenic terrain, you will experience over 20 named rapids, including "Patton's Run", "Whirlpool", and "The Bump". There are plenty of waves to crash through and several calm water opportunities to simply enjoy the natural beauty and wonders of the Nantahala River and the Great Smoky Mountains!
TESTIMONIALS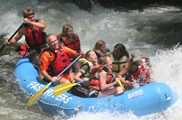 "Of all the outfitters we could have chosen, I'm confident that we chose the right one. We will DEFINITELY be back. Thanks again! You rock!—Gino
OUR STORY & WHAT KEEPS US EXCITED!
At Adventurous Fast Rivers, outdoor adventure is our passion and sharing it is our dream. We, Steven & Sue Matz, had a very unique opportunity to get out of "Corporate America" and live in the great outdoors of Western North Carolina! Steven (a seasoned paddler) got an email about a rafting business for sale, called Sue at work and we were here the next weekend checking out Fast Rivers. We knew from the moment we pulled in that this was the life for us — No matter what it took! We went back to the Atlanta area, put our house up for sale, explained that we were not crazy to our family, friends and neighbors, stocked up on canned goods (just in case) and happily turned in our business suits and dresses for cut-off shorts and T-shirts and off we went to begin our new life on the Nantahala River!
more of our story
You see, we met at a summer camp in Hendersonville, North Carolina and the love for this area never left us. So 24 years later, we find ourselves celebrating our 15th season on the river with our 3 lovable dogs and 2 awesome kids (or some say our greeting committee) and over a dozen seasonal employees who all share our passion and love for the outdoors.
We are personally here at our outpost everyday to show you that we truly appreciate your business and are committed to providing you with a positive whitewater experience. Our competitive edge is our position on customer service allowing us to continue to build a business that is based on long-standing relationships with satisfied customers. We work hard to ensure your satisfaction and value the trust you put in our company.
We are gearing up for another amazing season and are very excited to see all of our friends again. And as always, it is so great to meet many, many new ones. The people are truly what keeps us going and makes our business worthwhile! We absolutely love it!
Every year, we try to tweak the areas that will aid in our continued growth! This year, we are happy to say that we have added yet more new boats and funyaks to the fleet. We have also replaced many of our life jackets, just to keep things fresh!
Our family (Landon, Sophie, Lucy, Sport & Flower) are doing wonderful. We still have our 3 dogs to greet you! However, most of you will never meet Flower as she is still unaware as to how much fun it is at the river and how much loving she would get if she just gave people a chance! Lucy is now 15 and doesn't hear or see well but still adores the attention from customers! As for the non-furry kiddies, we are so enjoying our time with them; watching them grow & learn and challenge us daily. They both enjoy playing soccer and snow skiing which is fun for us all. It is also a thrill having our customers watch them grow from season to season reminding us to cherish every moment because they go by so fast. So thank you again for all of the reminders because we cannot be told enough to just live in the moment!
As always, helping you & your group to have fun is what we are here for. So please contact us with any Nantahala Rafting questions or suggestions. Customer feedback is extremely important to us & greatly appreciated. It is what helps us to continue to be successful in providing you with the best overall experience!
Again, thanks to everyone who continues to make our business what it is today. We truly appreciate each and every one of you. We look forward to seeing you on the river with us over and over again! And remember, we believe the most important trip down the river is yours…
 8.5 Mile Full River Trip down the beautiful Nantahala River
 7 mile trip eliminating the "Nantahala Falls" rapid
 4 mile trip for those who are limited on time
 Family Owned & Operated Since 1979
 Class II & III Rapids ~ beginner to intermediate (not mild but not wild)
 Self-Guided, Fully Guided, and Guide-Assisted available
 Funyaks/Duckies, Rafts, Sit-on-top Kayaks, and Canoes available
You guys took great care of us. I was very impressed with your set up. We got all of the services of your competition but with the personal service they do not provide. – Hank, Cub Scouts